This was my first time to Memphis and I found it to be a world class stop for food, culture and a whole lot of fun!
When you travel….or at least when I travel, I enjoy a nice hotel. It's also an added bonus when the hotel has a history, a story and personality. I had all of the above at The Peabody in downtown Memphis.
The beautifully restored hotel is almost all the way through a massive room renovation. The hotel rooms where spacious, clean and very comfortable. I also had a great experience in the hotel restaurant as well as room service. I was able to get an early breakfast and complete some work as I began my day. That first touch point is always critical and often overlooked by many hotels.
I found customer service was a big differentiator at The Peabody. Every employee greeted you with a smile and a what can I do for you attitude. Its nice to experience that in your home away from home, while on the road.
Our group had the pleasure of a private showing of the famous Peabody Ducks. Twice a day, these famous ducks march through the lobby, with their equally famous Duckmaster, and put on a show for the crowd that gathers.
The Duckmaster if filled with personality and presence. He puts on a show for kids and adults but also serves as a walking ambassador for the brand. It was a pleasure to speak with him in a small intimate setting.
We where lucky enough to get a tour of the Old Dominick Distillery.
This brand new facility is where they host events, serve food at their bar and restaurant and do all their distilling. The tour was so much fun. It was filled with history and interesting insight into the process of fermenting and distilling. We even got to taste some fermenting mash!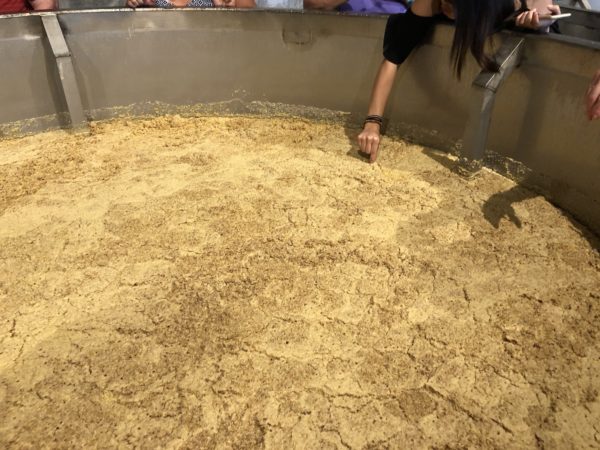 It had an interesting taste! Don't worry about germs, there is so much alcohol in there that it would kill off anything we may have added by putting our hands right in there. This is a must do if you are in the area.
While you are in the area, make sure to go and visit Gus's World Famous Fried Chicken, which has a location right across the street. I loved the fried chicken, and had fried green tomatoes for the first time, those are a must have as well.
We had a really special historical and cultural walk through some nice areas. They are revitalizing a lot of Memphis and it really shows. I loved the street art near the National Civil Rights Museum. This also sits on the site where Martin Luther King Jr. was killed, which was a very sad day in our history.
The street art is so moving. This depicts the sanitation worker's strike in 1968. This was the reason while MLK was in town. There is also a large installment commemorating this in the I Am A Man Plaza in downtown Memphis.
No experience to this city would be complete without a trip to Beale Street. You don't have to party all night long to enjoy a day time or evening walk down this entertaining strip.
Memphis was a truly special experience. Our group was able to pair all aspects of travel from food, accommodations, culture, history and a good time. That is my recipe for success.
I highly recommend a visit to Memphis. Get this wonderful city on your bucket list!
Our trip was facilitated by many wonderful sponsors mentioned in the article. I want to thank Memphis Tourism, Tennessee Tourism, The Peabody and MediaVine for an outstanding experience.